Dyersburg Skin and Allergy Clinic
Providers
Dr. Kenton Busch
Dr. Busch currently resides in Dyersburg with his wife Laura.  He is the owner and Medical Director of the Dyersburg Skin and Allergy Clinic.  Dr. Busch began his college career at Memphis State University (Now University of Memphis), then Southeast Missouri State University in Cape Girardeau.  He was fortunate enough to be accepted into the Southern College of Optometry before graduating college and there he received his Bachelor of Science Degree in Physiological Optics in June of 1982.  He then received his medical degree from the University of Health  Sciences – College of Osteopathic Medicine Kansas City, Missouri in May of 1987 (now known as the Kansas City University of Medicine and Biosciences).  Following graduation, he completed a rotating internship at the Oklahoma Osteopathic Hospital in Tulsa (now known as the Tulsa Regional Medical Center), then a Family Practice Residency through the University of North Carolina (affiliated with Memorial Mission Hospital in Asheville).  Upon completion of his training in Family Practice, Dr. Busch undertook a post residency preceptorship in Dermatology at the Quad Cities Skin and Allergy Clinic in Moline, Illinois.  Dr. Busch spent the first few years of his career working in emergency rooms in California, Tennessee and Missouri before opening the Dyersburg Skin and Allergy Clinic in February 1996.
Vonda Emerson, FNP-BC
Vonda is a Family Nurse Practitioner with more than 20 years experience in the medical field.  She became an RN after graduating from the Diploma RN program at the Methodist Hospital School of Nursing in Memphis in 1987.  She then received her Bachelor of Science in Nursing from Memphis State University in 1989.  She worked as a nurse until completing the Master of Science in Nursing program at the University of Missouri in St. Louis in 2003.  She has been working at the Dyersburg Skin Clinic since September 2003 and is currently certified with the ANCC.
Kim Fawver, PA-C
Kim is a Physician Assistant with more than 10 years experience in health care.  She completed her Bachelor of Science Degree in Biology and Chemistry from the University of Tennessee at Martin in 2002.  During that time, she was employed with Dyersburg Regional Medical Center (formerly Methodist Hospital of Dyersburg) in the Lab.  She completed her Master of Science in Physician Assistant Studies at Bethel College in McKenzie in 2005.  She has been employed by Dr. Busch since that time and is currently certified through the NCCPA.
Our Staff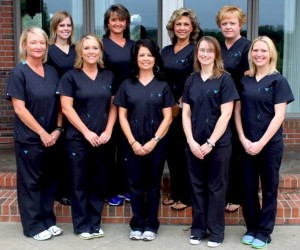 Back Row, Left to Right:
Rachel Enochs, RN
Laura Tomczak
Sandy Thomas
Debbie Lukens
Front Row, Left to Right
Mary Johnson
Denise Horner, Office Manager
Pam Golden, LPN
Wendy Sentell
Melissa Yeager