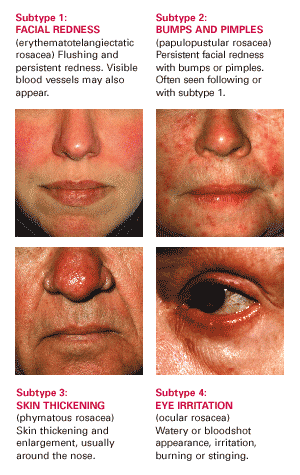 Common Signs and Symptoms of Rosacea


Redness across the nose and cheeks – this can spread to the chin, forehead oand ears
Acne like breakouts
Oily skin
Skin feels sore and easily irritated
Thin, reddish purple veins
Bloodshot eyes
Eyes are dry, itchy and irritated
Gritty feeling in the eyes
Redness can become worse with time and may even be permanent.  The skin may feel hot and tender.  Burning and stinging can result.
A few people can see the skin grow thick.  The nose enlarges and thick bumps form.  This is called Rhinophyma.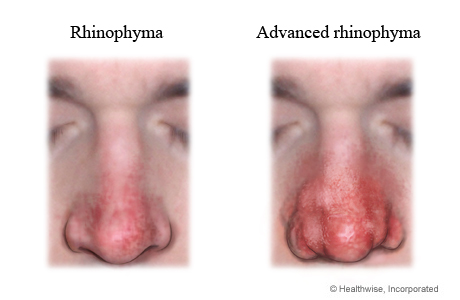 Who Gets Rosacea?
All types of people get rosacea.  You do have a greater chance of developing it if you are:


Between 30-50 years of age
Fair skinned, with blonde hair and blue eyes
Of Celtic or Scandinavian anscestry
A woman going through menopause
Treatment for Rosacea
Treatment can improve discomfort and redness from rosacea.  Most effective results are from a combination of treatments.
Treatments range from topical creams and gels applied to the skin, washes and oral medications.
Lasers can be very effective in reducing redness and treating small veins caused by rosacea.
Treatment for the eyes typically involves drops that are instilled daily.
Tips for Dealing with Rosacea


Avoid long sun exposure.  Seek shade when possible and wear sun protective clothing and sun block.
Food and drinks – avoid those that cause rosacea to flare.  Common triggers include spicy foods, hot temperature drinks, caffeine and alcoholic beverages.
Hot and cold temperatures can trigger rosacea.
Skin care – avoid rubbing, scrubbing or massaging your face.  Keep routine simple.  Fewer products are better.  Avoid cosmetics and skin care products that contain alcohol.